ASHRAYA, a brainchild of ICFDR, is a Shelter School for the underprivileged children. It provides free classes, gives free computer training to children, promotes women empowerment through various vocational training programmes, and actively campaigns for health and hygiene awareness. It has various centres running across India like Varanasi, Prayagraj, Chennai with the latest centre opened in Noida. ASHRAYA is improving lives and creating a brighter future for those in need via their tireless work.
Shelter School:
We offer a secure haven for street kids who are frequently left on their own through the Shelter School. Along with receiving a top-notch education, these kids also get emotional care and nourishment. By ending the cycle of poverty and giving these kids a chance at a better life, the school serves as a catalyst for change.
Free Tuition Classes: 
ASHRAYA offers free tuition classes for underprivileged children.The dedicated team of teachers and volunteers at ASHRAYA empower these students with knowledge, instilling in them the confidence to dream big and achieve their goals.
Computer Training Center: 
ASHRAYA operates a computer training centre, where children learn essential computer skills. By equipping these young minds with the necessary tools, ASHRAYA opens doors to better job prospects and empowers them to navigate the digital landscape with confidence.
Women Empowerment Initiatives: 
ASHRAYA provides training in stitching, mehndi (henna art), and gruh udyogs (small and medium enterprises), empowering women with skills that enable them to become financially independent. ASHRAYA is fostering a culture of self-reliance and enabling women to contribute meaningfully to their families and society.
Campaigns on Health and Hygiene: 
ASHRAYA actively runs campaigns to raise awareness about the importance of cleanliness, sanitation, and personal hygiene. Through workshops, educational materials, and community outreach, they empower individuals with the knowledge and practices necessary to lead healthier lives, ultimately preventing disease and improving quality of life.
Food distribution:
Like in other centres of ASHRAYA running across India. One time food is distributed as a meal to all the children who are studying in this ASHRAYA centre. The food is prepared with utmost care of nutritional value at the centre's hygienic and clean kitchen.
ASHRAYA has centres in several parts of India like Noida, Prayagraj, Varanasi. Now it was Chennai's turn to carry the torch of ASHRAYA for the welfare and upliftment of the underprivileged and weaker sections of society who live in various sufferings in this metropolitan city. Here are some of the activities which ASHRAYA is performing for those people: 
Hostel and Free Food for youth and underprivileged students: 
ASHRAYA, Chennai is providing not just education but also a nurturing environment through its hostel facilities.ASHRAYA offers a safe and comfortable place for these individuals to reside.Moreover, the organisation goes a step further by ensuring that the basic needs of the students are met by providing free and nutritious meals. By addressing the essential requirements of shelter and food, ASHRAYA is providing an environment that allows young individuals to focus on their education and reach their full potential.
Social Rights Awareness Workshops: 
The daily wage workers and women in Chennai often face various social and economic challenges, with limited knowledge about their rights and entitlements. ASHRAYA bridges this gap through its social rights awareness workshops, where participants are educated about their fundamental rights, workplace safety, gender equality, and legal protections. ASHRAYA aims to break the cycle of exploitation, discrimination, and injustice, helping them assert the rights and secure a dignified livelihood of the underprivileged 
Campaign for Health and Hygiene: 
ASHRAYA is running impactful campaigns that raise awareness about health-related issues and promote hygienic practices. These campaigns target vulnerable populations and provide crucial information on topics such as sanitation, safe drinking water, proper nutrition, and preventive healthcare. ASHRAYA strives to improve overall health outcomes and contribute to the well-being of the community.
Student counselling and support centre:
The ASHRAYA Chennai centre also offers counselling services to students in need. The counselling centre is an attempt to comprehend numerous concerns that students face, such as emotional, behavioural, and psychological issues. Aside from that, ICFDR-trained counselling professionals assist them with career counselling services.
With its multifaceted approach, the ASHRAYA is providing a safe haven for children from underprivileged sections through shelter schools, offers free classes to them, conducts social rights awareness workshops for daily wage workers and women, and runs comprehensive programs on health and hygiene awareness. Located in the midst of Prayagraj, ASHRAYA is dedicated to empowering individuals and communities, creating lasting change for a brighter future.
Shelter Schools for Street Children:
To ensure that no child is left behind, ASHRAYA has established shelter schools for street children. These schools provide a safe and nurturing environment where children receive not only quality education but also emotional support and guidance. 
Free Tuition Classes for Underprivileged Children:
In order to bridge the gap, ASHRAYA provides free tuition classes. These classes aim to supplement the regular school curriculum, offering additional support in core subjects and empowering children with knowledge and skills.
Social Rights Awareness Workshops for Daily Wage Workers and Women:
To uplift marginalised communities, ASHRAYA conducts social rights awareness workshops. Daily wage workers and women are educated about their rights, including labour laws, fair wages, and workplace safety. These workshops have created a ripple effect, as participants become agents of change within their communities.
Awareness Programs on Health and Hygiene:
ASHRAYA is running awareness programs on health and hygiene. These programs educate communities about preventive measures, nutrition, sanitation practices, and the importance of regular healthcare check-ups. By promoting good hygiene practices, ASHRAYA aims to improve the overall health of underprivileged individuals, enabling them to lead healthier and more fulfilling lives.
Stiching centre:
In order to empower women economically, ASHRAYA is running a stiching centre in its campus where it is providing skill training on stitching and creating design through it. ASHRAYA not only provides training, but also gives them placement assistance in various garment manufacturing firms, mahila griha udyog, SMEs and MSMEs etc in the nearby areas.
With a vision to uplift the lives of underprivileged communities, ASHRAYA recently conducted a 3 months groundbreaking residential boot camp for engineering students from Banaras Hindu University (BHU) and the Indian Institute of Technology (IIT) BHU. The boot camp aimed to equip these students not only with essential software skills like coding but also focused on personality development, interview preparation, sattvic food, and health and hygiene education.
Empowering Future Engineers: 
ASHRAYA designed a comprehensive program to empower engineering students with skills that extend beyond their academic curriculum. The residential boot camp served as a catalyst for their personal and professional growth, allowing them to thrive in the competitive technological landscape.
Software Skills and Coding: 
The boot camp placed significant emphasis on software skills and coding, equipping the students with practical knowledge to excel in their chosen engineering fields. Senior students from IIT BHU conducted interactive sessions and hands-on workshops. Through these activities, students developed a strong foundation in programming languages, problem-solving techniques, and software development methodologies.
Personality Development and Interview Preparation: 
Alongside technical training, the boot camp provided guidance in personality development and interview preparation. Expert mentors from diverse backgrounds facilitated sessions on effective communication, leadership skills, teamwork, and professional etiquette. Students received personalised feedback and constructive criticism to help them refine their strengths and address areas that needed improvement.
Exploring Sattvic Food and Health Hygiene: 
During the boot camp, participants were educated about the importance of sattvic food, known for its purity, vitality, and positive effects on the mind and body. They received practical insights into incorporating sattvic food choices into their daily lives, nurturing both physical and mental well-being. Additionally, sessions were taken on health and hygiene, sanitation, preventive healthcare practices, empowering the students to lead healthier lives.
The Indian Centre for Development and Rights (ICFDR) is taking a significant step towards uplifting the underprivileged sections of society by establishing a much-needed community centre in Patna, solely dedicated to the welfare of children. This shelter school aims to provide a safe and nurturing environment for these young souls, offering free education to equip them with the knowledge and skills necessary for a better future. The centre goes beyond academics and extends its support by organizing computer classes, enabling the children to embrace technology and stay updated with the digital world. Moreover, the facility includes counseling and guidance services, recognizing the importance of mental and emotional well-being in the holistic development of these children. Alongside education and counseling, the centre acknowledges the importance of recreation and play in a child's life, providing ample opportunities for recreation and fun activities. Through this compassionate initiative, ICFDR is fostering hope and creating a brighter tomorrow for the children in need, empowering them to break free from the cycle of poverty and build a promising future for themselves and their communities.
VARANASI FOOD DISTRIBUTION
VARANASI FOOD DISTRIBUTION SUPPORTING SADHUS, PILGRIMS, HOMELESS PEOPLE AT GHATS
Amidst the sacred ghats and ancient temples, ICFDR based in Varanasi has emerged as a beacon of hope, extending its compassionate support to those in need. ICFDR has taken upon itself the noble task of distributing food to sadhus, pilgrims, and homeless people, ensuring that nobody goes hungry in this spiritual city.
Reaching out to the Needy:
ICFDR's primary focus is to cater to the specific needs of sadhus, pilgrims, and homeless individuals residing in and around the ghats of Varanasi. Every day, the dedicated volunteers set up food distribution centres strategically placed along the ghats, ensuring that their aid reaches those who need it the most.
Impact and Transformative Change:
ICFDR has stepped forward to support the sadhus, pilgrims, and homeless individuals who reside on the ghats by feeding them on the spot. Through the tireless efforts and compassionate spirit, ICFDR ensures that no one goes hungry, embracing the diversity and inclusivity of the city. 
PRAYAGRAJ FOOD DISTRIBUTION
PRAYAGRAJ FOOD DISTRIBUTION SUPPORTING SLUM AREA PEOPLE
ICFDR has taken on the mission of distributing food to the people residing in the impoverished communities of Dharkar Basti, Kydganj slum area. The people residing in this slum area don't have enough money so that they can arrange food at least two times and feed their families. 
Understanding the Struggles:
Dharkar Basti, Kydganj slum area are home to a large population facing challenging circumstances such as poverty, inadequate housing, lack of access to education and healthcare, and limited employment opportunities.Committed to bringing about positive change, ICFDR has made it its mission to ensure that no one in these communities goes hungry.
The Power of Nourishment:
One of the primary focuses of ICFDR is to provide regular, nutritious meals to the residents of Dharkar Basti, Kydganj slum area. Each day, a dedicated team of volunteers distributed the food which was cooked hygienically. The meals not only alleviate hunger but also contribute to overall well-being. In Prayagraj, where marginalised groups continue to struggle. ICFDR is dedicated to distributing food among the residents of Dharkar Basti slum area of Kydganj, via their continuous dedication. 
AHMEDABAD FOOD DISTRIBUTION
PRAYAGRAJ FOOD DISTRIBUTION SUPPORTING SLUM AREA PEOPLE
PROBLEM: Ahmedabad, a vibrant city in India, is home to numerous slum areas that face significant challenges, including access to adequate nutrition. Slum areas in Ahmedabad often face food insecurity due to poverty, unemployment, and limited resources. Many residents struggle to afford nutritious meals and lack access to a reliable supply of food. 
ACTION: Food distribution is very important in these communities because it helps keep the residents healthy and well. On January 10th, 2023, a group of 8 volunteers from ICFDR went to Ektanagar Danilimda ward in Ahmedabad. volunteers distributed food plates to over 50 people who live in the slum. The food, which the volunteers gave was cooked in a clean and safe way, and they made sure it had all the good nutrients the residents needed.
IMPACT: Due to this food distribution drive, people in the slum area received nutritious food for two meals every day for ten consecutive days. It must have left a good impact on their health and nutrition from which they were deprived off. 
PATNA FOOD DISTRIBUTION SUPPORTING FLOOD AFFECTED PEOPLE
In 2022, Patna faced the wrath of devastating floods, displacing thousands of people and leaving them in dire need of assistance. ICFDR rose to the occasion, distributing food to support the flood-affected people. Their selfless efforts became a lifeline for those grappling with the aftermath of the disaster.
Rising to the Challenge:
When the floods struck Patna in 2022, causing widespread devastation and displacing countless families, ICFDR swiftly mobilised its resources and volunteers to address the urgent need for food assistance. ICFDR worked tirelessly to provide food to those affected, ensuring that no one went hungry amidst the chaos and uncertainty.
Delivering Nourishment and Hope:
ICFDR's volunteers carried and distributed meals to the flood-affected people in Patna. They distributed the meal which was  not only fulfilling the hunger but also catered to the nutritional needs of the affected population. These efforts aimed to bring a sense of normalcy and hope during a time of great adversity.
Setting up Distribution Centers:
ICFDR efficiently set up distribution centres across the flood-affected areas of Patna. These centres started providing easily accessible food to those in need. The volunteers worked tirelessly, serving hot meals to flood survivors, including families, children, and the elderly, who were most vulnerable to the devastating effects of the disaster.
 SUPPORTING FAMILIES OF SEX WORKERS
Mumbai's Kamathipura red light area is known as one of the largest and oldest red light districts in Asia, housing numerous sex workers and their families. Seeing the dilapidated conditions of the kids of those sex workers, ICFDR  started reaching out to their families by distributing food. ICFDR aims to alleviate hunger and offer a ray of hope to those living in vulnerable circumstances.
Understanding the Challenges:
The families residing in Kamathipura face numerous challenges due to a stigma associated with their living and working. Many of these families struggle to access basic necessities, including food, as their circumstances make it difficult for them to secure stable employment or access regular means of sustenance.
Nourishing Bodies and Souls:
ICFDR's primary initiative revolves around distributing food to the families of sex workers in Kamathipura. With the help of dedicated volunteers, nutritious meals were prepared which was ensured with timely distribution within the community. This meal was typically prepared to meet the nutritional requirements of those vulnerable people.
A positive impact:
Positive impact was seen in the life of the kids of those sex workers. Since they got delicious as well as healthy food from our volunteers. They enjoyed the food a lot. The children not only ate the food, but also fed that food to their mother also.
VARANASI STATIONERY DISTRIBUTION
In Varanasi,ICFDR has embarked on a mission to support the education of underprivileged children by distributing essential stationery items. After identifying schools, ICFDR identifies children from marginalised communities who lack access to stationery supplies. By providing these necessary tools for education, ICFDR aims to empower these children and give them a chance to unlock their full potential.
Identifying Underprivileged Communities
ICFDR works closely with schools, community centres, and local organisations in Varanasi to identify children from underprivileged communities who face barriers in accessing basic stationery items which causes them to halt their education. ICFDR ensured that the support reaches those who need it the most.
Collaborations for Effective Outreach
ICFDR gains valuable insights into the specific needs of underprivileged children in Varanasi. This helped in identifying children who lack stationery supplies and enabled ICFDR to tailor their support accordingly. ICFDR played a crucial role in reaching out to these children and ensuring that the stationery items are distributed effectively.
Essential Stationery Support
ICFDR started the stationery distribution campaign. Several packets were prepared for distribution which consisted of one pencil, one sharpener, one rubber eraser, one pen and one note book. By providing these items, ICFDR aims to remove the financial burden from the families and encourage children to actively participate in their education without worrying about the lack of stationery.
ICFDR has embarked on a transformative mission by setting up a free library. Committed to promoting education and empowering individuals in Madhubani district of Bihar. With offerings such as free access, a diverse collection, dedicated space, volunteer support, regular events and workshops, outreach programs for underprivileged students, and collaboration with publishers and donors, this library is becoming a beacon of learning and empowerment.
Promoting Free Access to Education:
At ICFDR's library in Madhubani, education is made accessible to all without any financial burden. The library offers free access to the students from different backgrounds. By eliminating economic barriers, ICFDR enables everyone in the community to engage in the pursuit of knowledge, regardless of their financial circumstances.
A Diverse Collection for Enriching Learning:
The library boasts a diverse collection of books, catering to a wide range of interests, subjects, and reading levels. From textbooks to literature, reference materials to children's books, the collection is carefully curated to meet the needs and preferences of the community. The library facilitates multidimensional learning experiences, nurturing curiosity and intellectual growth among library visitors.
A Dedicated Space for Exploration:
Equipped with comfortable seating, study tables, and reading areas, the space offers an environment where individuals can engage in focused studying, research, and personal development. By providing a peaceful and welcoming setting, the library gives an atmosphere of studying and working peacefully.
Collaboration with Publishers and Donors:
By partnering with publishers, authors, and generous donors, the library expands its collection, acquires new resources, and enhances the quality of its offerings. Through these collaborations, ICFDR demonstrates its commitment to the community and its dedication to providing enriching educational experiences.
ICFDR recently hosted a magnificent cultural event, "IMPRESSIONS-22," in collaboration with UMEED Social and Economic Development and ISKCON Varanasi. The event, which took place at two prestigious venues – AMA in Prayagraj and Rudraksha Centre in Varanasi, was a remarkable showcase of talent and creativity. 
Around 400 students hailing from esteemed institutions such as Banaras Hindu University (BHU), Indian Institute of Technology (IIT) BHU, Varanasi, Indian Institute of Information Technology (IIIT), and Motilal Nehru National Institute of Technology (MNNIT) Allahabad, captivated the audience with their awe-inspiring performances.
The cultural dance performances were one of the standout attractions of "IMPRESSIONS-22." The stage was set ablaze with the vibrant and graceful movements of the participating students. Their performances encompassed a diverse range of dance styles, including classical, and folk representing the rich cultural heritage of India. 
The event also witnessed enthralling musical performances, as students showcased their singing talents in solo and group performances. The songs ranged from traditional Indian classical compositions to enchanting bhajans.
The event included captivating dramas that left the audience at the edge of their seats. The dramas covered important themes of anti addiction and mental wellness,providing thought-provoking entertainment and take home lessons for the audience.
In addition to the cultural performances, "IMPRESSIONS-22" featured motivational talks by esteemed speakers. These sessions aimed to inspire and empower the participants, instilling in them the need and the means to be focused and avoid any distractions in their career to  make a positive impact on society. The speakers shared their personal experiences, insights, and words of wisdom, encouraging the students to pursue their dreams and overcome obstacles on their path to success.
To further enhance the spiritual dimension of the event, devotees from ISKCON Varanasi organised a mesmerising mantra rock concert. The fusion of ancient mantras and contemporary music created a serene and uplifting atmosphere, providing a unique spiritual experience for the attendees. 
The presence of distinguished dignitaries like Chief Engineer UP Electricity board, Smt Malaini Awasthi, renowned folk singer and Commissioner of Varanasi Shri Kaushal Raj Sharma added prestige to "IMPRESSIONS-22." These eminent personalities delivered impactful speeches, sharing their insights and motivating the students to strive for excellence. Their words of encouragement and guidance inspired the young talents to harness their potential and become agents of positive change in society.
The collaboration between ICFDR, UMEED, and ISKCON Varanasi played a vital role in the success of "IMPRESSIONS-22." By bringing together diverse talents, these organisations created a platform for cultural exchange, fostering unity and understanding among the participants. The event showcased the power of collaboration in organising a truly grand and memorable experience. The event was very successful in conveying the need of staying away from bad habits and also the means for mental wellness.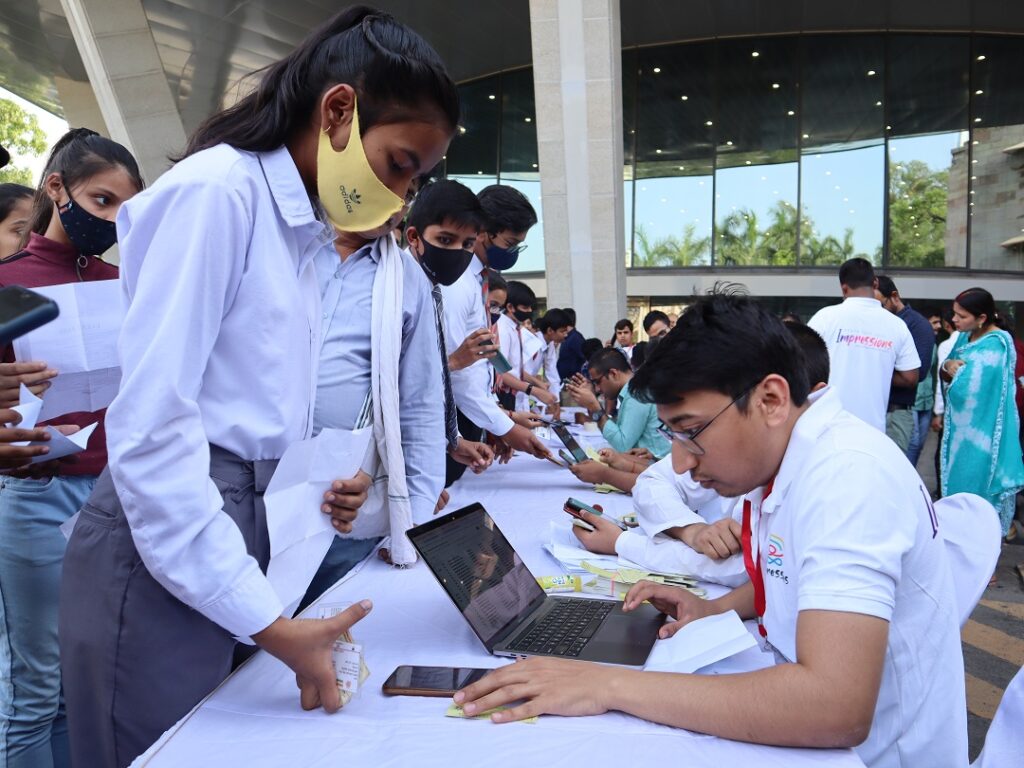 On the 15th of January 2022, in order to provide facilities of all government schemes (central and state) to the people without any hassle, ICFDR established three Jan Kalyan Kendras in Etawah, Uttar Pradesh, in collaboration with Cograd Schools.The primary goal of Jan Kalyan Kendra is to offer individuals in rural India with last-mile digital services. Currently, those three JKKs are linked to more than 30 communities in the nearby villages and are expanding their reach on a daily basis.
RANJIT SINGH PUBLIC SCHOOL (JKK):
Tulsipur is the closest village to Ranjeet Singh Public School (JKK). Agriculture and dairy products support the majority of the people. With the establishment of JKK at Ranjeet Singh Public School, people started knowing about various government programmes and schemes for their benefit. In addition to this, JKK has given a facility to the students of Ranjit Singh Public School for filling the forms of different competitive exams, can take information of every college and university for studying further and can avail all the scholarships proposed by the government. 
ST. MARIA SCHOOL (JKK)
Udi is the nearest village to St. Maria School (JKK). The majority of the families are truck drivers. Since the inception of our JKK, individuals have gradually begun to flock here to take the information. This centre has also improved  the lives of the youth living in the nearby area of this JKK as this centre is providing computer education free of cost and youth from different schools and colleges are getting this training. 
VAIDYA H. N. SINGH PUBLIC SCHOOL, JKK
Nearest village to Vaidya H.N.Singh Public School (JKK) is Nagla Sikarwar and nearest town area is Ghiror. Ghiror is one of the largest markets of Garlic. After the establishment of this JKK, it has served as a facility where farmers can take information which is useful for their agricultural cultivation. 
Nearly, more than 300 people have availed the facilities from these Jan Kalyan Kendras and have taken all the necessary information of their purpose. Jan Kalyan Kendra (JKK) is committed to providing a wide range of essential facilities and services to the community through their centres. At JKK, individuals can conveniently access services such as PAN card application, electricity bill deposit, new electric connections, Jawahar Navodaya entrance registration, Colgate Foundation scholarship, Kisan Samman Nidhi, insurance services etc.
Additionally, JKK offers e-nagrik and e-district services for obtaining birth and death certificates, pension services, NIOS registration, NIELIT services, Aadhar printing and enrollment, PAN card services, electoral services, e-courts and results services, state electricity and water bill collection services and services of the Department of Post. Through their diverse range of facilities, JKK aims to simplify administrative processes, enhance access to vital services, and contribute to the welfare of the community.
ANNUAL SEWA UTSAV, BANGALORE with MICROSOFT
PROBLEM: – Children in slum areas face different problems, apart from their pitiful living conditions, they also face various social, psychological and emotional problems like social exclusion, violence, negligence both from family as well as from society which led them into various unscrupulous activities, due to this their behaviour turns to be violent. 
ACTION: – On 19th october 2022, volunteers from ICFDR, in association with MICROSOFT, met the kids of a slum area of bangalore. Volunteers from both the organisations arranged some delicious eatables and goodies for those children. Our volunteers spent some quality time with them which includes games with interactive learning, music, dance etc. The volunteers also interacted with those children in a fun loving way. 
IMPACT: – We had a great time with the children. The children joined in all the activities, like games, cultural events, and interactive learning. Our volunteers talked to the children, listened to their concerns about their health, education, and fun activities. Many children got well connected with the volunteers, thus getting long term guidance and support. We could definitely observe the change in the attitude and confidence of the children. This event was a strong morale booster to the students, thus we could address the emotional problems that the students face.
CHILDREN COUNSELLING MELA, BANGALORE
Volunteers from ICFDR in association with MICROSOFT organised a Children Counseling Mela in Bangalore. This unique event aimed to provide a safe space for children to express themselves, seek guidance, and receive emotional support. The children who attended this program came from a poor background with their parents doing some low paying jobs to maintain their families.
Creating a Safe and Supportive Environment:
The organisers went to great lengths to ensure that the venue was child-friendly, with colourful decorations, comfortable seating, and engaging activities. The focus was on creating a safe space where children could freely express their thoughts, emotions, and concerns.
Expert Guidance and Counseling:
Volunteers from ICFDR and MICROSOFT brought with them a wealth of experience and expertise in child counselling. Trained professionals in the field, they provided individualised guidance and counselling sessions to each child based on their unique needs. Whether it was academic stress, family issues, self-esteem concerns, or peer pressure, the volunteers offered a compassionate ear and practical advice to help children overcome their challenges.
Interactive Workshops and Activities:
To engage and empower the children further, the Children Counseling Mela included a variety of interactive workshops and activities. These sessions were designed to enhance their emotional intelligence, communication skills, and self-confidence. Through art therapy, role-playing exercises, group discussions, and creative writing workshops, the children were encouraged to express themselves creatively and develop essential life skills.
Promoting Mental Health and Emotional Well-being:
One of the primary objectives of the event was to promote mental health and emotional well-being among children. The volunteers organised informative sessions on stress management, self-care, and positive coping mechanisms. The children were educated about the significance of mental well-being and provided with tools to navigate their emotions effectively. The Children Counseling Mela in Bangalore benefited the children who participated. Their involvement and active participation showcased the collective commitment to nurturing the emotional health of children and creating a more resilient community.
MEGA ANNUAL FEST ANTYODAYA AT MNNIT
PROBLEM: – There are children who come from an underprivileged section of society, they can't go to school and can access education. Due to this result, a blockage comes in their overall development of their life and as a result they go out from the mainstream of the society.
ACTION: – ICFDR organised an event called "ANTYODAYA" in collaboration with "Anokhi Pehel", MNNIT, Allahabad. Over 400 children from nearby schools and slums participated in this joyful event. It included a science exhibition, fun games, music, dance, debates, quizzes, puzzles, Vedic maths, and spelling competitions.  This event also facilitated the children to learn from various volunteers from MNNIT and also gave them good connections with MNNIT students, which will be useful in near future.
IMPACT: –  Organising a competition event for school children supported their growth and learning. The event included exciting competitions to showcase talents and instil cultural values. Children learned teamwork, sportsmanship, and respect for others. It fostered community and encouraged skill development while appreciating cultural heritage. This also gave the children exposure to a community which is academically sound and thus their confusions, doubts and questions were addressed.
WINTER CLOTH DISTRIBUTION, VARANASI
PROBLEM: – During winter in slum areas, poor people face many difficulties because they don't have warm cloth to keep them warm. This puts them at a higher risk of getting frostbite, and other cold-related illnesses. As a result, their health suffers, and they have to endure the cold without the right protection.
ACTION: – Around 10 volunteers from ICFDR organised a winter cloth distribution and visited three different places: a slum area, an old-age home, and an orphanage. They spent three days, from January 12th to January 15th, 2023, distributing winter clothes. The volunteers gave winter clothes to children in the slum area and in the orphanage as well and provided winter clothing to senior citizens at the old-age home.
IMPACT:- People had different reactions when they received new winter clothes from our volunteers. The senior citizens at the old-age home were happy and grateful, and they felt emotional seeing the new winter clothes. The children in the orphanage and slum area were very excited and some of them even put on the new winter clothes right away.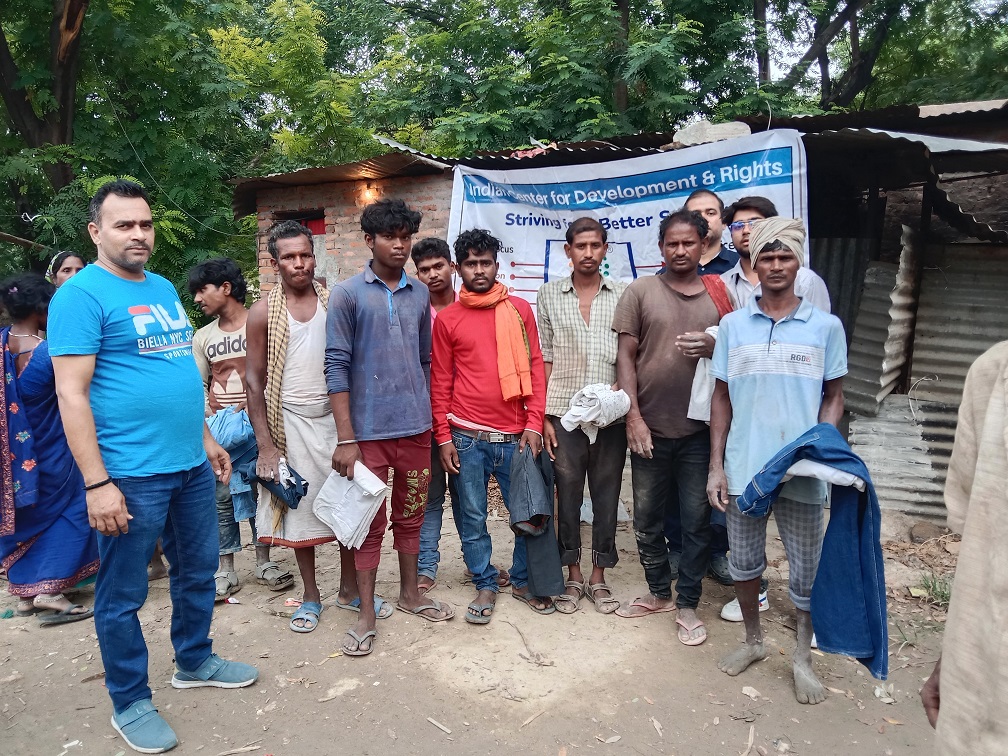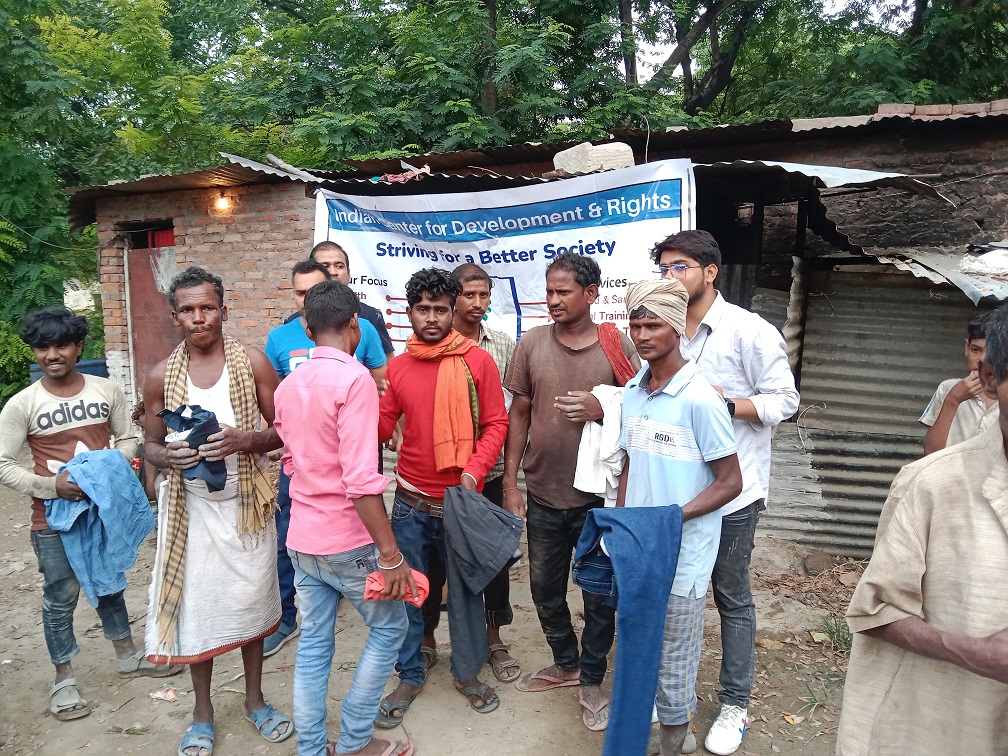 ICFDR recently conducted a comprehensive awareness campaign in 3 areas of Delhi viz, Holambi Kalan, Kusumpur Pahari and Sangam Vihar.The campaign aimed to educate and inform labourers about their rights, various government welfare schemes, and the facilities available to them. By actively engaging with these workers, collecting their data, and distributing informative brochures, ICFDR volunteers played a vital role in empowering the labour community.
Meeting Labourers and Collecting Data: 
ICFDR's volunteers reached out to construction sites across 3 areas of Delhi to connect directly with the labourers. They interacted with these workers. During these encounters, essential data such as the labourers' names, phone numbers, and Aadhaar numbers were collected. This data collection process ensured that the information shared during the campaign could be used for the specific needs and circumstances of each individual.
Informing Labourers about their Rights: 
One of the primary objectives of the campaign was to educate labourers about their rights as workers. ICFDR volunteers provided detailed explanations and examples to ensure clarity. The workers were informed about their entitlements, including fair wages, safe working conditions, and protection against exploitation.
Government Welfare Schemes and Facilities: 
Labourers often remain unaware of the numerous government welfare schemes and facilities designed to support them. ICFDR volunteers launched a campaign and  informed the workers about these programs, emphasising the benefits available to them. From housing schemes to healthcare initiatives, the volunteers explained how labourers could access and take advantage of these government provisions. 
Distribution of Informative Brochures: 
ICFDR provided printed brochures containing detailed information about the rights of labourers, various government schemes, and available facilities. These brochures served as a handy reference guide, enabling the labourers to revisit and reinforce the knowledge they acquired during the campaign.